Interview: van Canto
mit Stefan Schmidt vom 14. Oktober 2011 in der Markthalle, Hamburg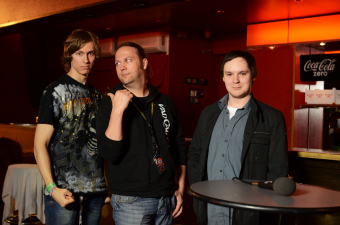 Alexander Kipke und Arne Luaith mit Stefan Schmidt von van Canto nach dem Interview.
Am 14. Oktober haben wir uns im Rahmen der
Out Of The Dark Festival Tour 2011
direkt vor van Cantos Headliner-Show mit Nicht-Drummer Stefan
Stef
Schmidt in eine ruhige Ecke der Hamburger Markthalle zurückgezogen, um uns ein wenig mit ihm über den jüngsten Longplayer der A-Capella-Metaler –
Break The Silence
(2011) – und den Verlauf der aktuellen Tour zu unterhalten. Doch seht selbst … Viel Spaß beim Anschauen!
Das Verfassen neuer Kommentare ist derzeit deaktiviert.