Interview: Heidevolk
mit Joris Boghtdrincker vom 30. Januar 2012 via Mail
Ein großer Teil der internationalen Musikfans da draußen neigt dazu, sich nur Bands anzuhören, die auf Englisch oder einer vergleichbar weit verbreiteten und somit für die breite Masse verständlichen Sprache texten. Wobei, das wäre eigentlich auch bei Chinesisch der Fall, doch aus irgendeinem Grund singt außer den Chinesen fast niemand auf Chinesisch ... Jedenfalls werden durch diese Praxis mit Sicherheit viele talentierte Gruppen pauschal unter den Teppich gekehrt, weil sie in einer für den Hörer unverständlichen Sprache künstlerisch tätig sind und ihn mit ihren Songs nur schwer erreichen können. Welche deutschsprachige Band ist schon im Ausland bekannt, deren Bandname nicht gerade ein rollendes R am Anfang trägt? Das führt natürlich dazu, dass von weniger Menschen gesprochene Sprachen bei der Wahl für die Lyrics oftmals gar nicht zur Debatte stehen ... Ganz anders ist es bei der niederländischen Viking und Folk Metal-Band
Heidevolk
, die sich von Anfang an dazu entschlossen hat, ihre Songtexte vollständig auf niederländisch zu verfassen! Der bei der Band für den Gesang und das Midwinterhorn verantwortliche
Joris Boghtdrincker
berichtet uns in diesem Interview von der Geschichte der Band, vom neuen Album
Batavi
, die anstehende Tour in den kommenden Monaten und die weiteren Besonderheiten der Truppe, zu denen nicht nur die ungewöhnliche Wahl der Songsprache gehört!
Heidevolk
beschäftigt sich in seinen Songs vor allem mit der Mythologie der Germanen oder mit Aspekten der Geschichte, welche ihre niederländische Heimat betreffen. Lest mehr im unten stehenden Interview! Viel Spaß dabei!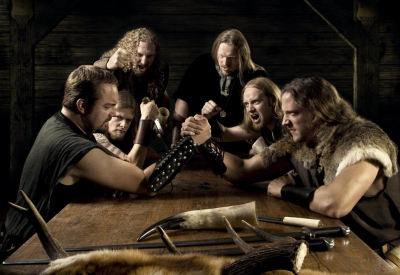 Heidevolk in full line up (2012). Copyright (©) Bardur and Awik
The Interview:
Alex: Hi, thanks for taking the time for this interview! Could you please introduce yourself to our readers?
Joris: Hey Alex, this is Joris writing. I'm one of the two singers in our band.
Alex: How are you and how is the band doing right now?
Joris: We're doing great! All the hard work writing, recording and designing the album is over, so now we're ready for the fun part: releasing it and doing a lot of shows! At this moment we're doing a lot of practising for the live set. Paganfest is coming up!
Alex: How would you personally describe the core elements of your musical style? What makes it special?
Joris: I would say the combination of singing style, Dutch lyrics and the topics we sing about is pretty unique. Also our usage of both modern and older forms of hard rock and metal, mixed with folk elements gives us a broad yet coherent sound.
Alex: Your latest record "Batavi" will be released in March 2012. What can you tell us about the new album? How has the production process been?
Joris: Without a doubt this is our most 'metal' album to date. All the typical Heidevolk characteristics are still there, but this record is a lot more brutal and direct than our previous releases. We decided to go for a concept album, and we based it on the early history of the Batavian tribe. It took some studying and we really needed to focus as a group, but I consider it a successful experiment. On the earlier albums writing songs based on a central theme was never the main priority, but on Batavi the songs form chronological chapters in one big story. We recorded drums in
Peter Tägtgren's
Abyss Studio in Sweden, and the rest in the studio of our sound guy Nico van Montfort. In the end Peter mixed everything together, and Jonas Kjellgren mastered the album.
Alex: What are the differences between "Batavi" and its predecessor "Uit oude Grond"?
Joris: Batavi is way more 'metal', both musically and production-wise. We still have the typical elements I mentioned earlier, but in general this album is a lot more aggressive and brutal. We felt the folk style of playing was getting a bit limiting, but rather than abandoning it we opted for a broader pallet of metal influences to enrich our music with. It really feels as if the songs got a new impulse, and more thrust and drive to them. Much credit to our guitar players and Mr. Tägtgren for delivering!
Alex: With this album, you decided to present the historic people of the Batavi. Why? Are you trying to tell authentic and historically accurate tales in your songs or is it mere imagination?
Joris: The Batavians have fascinated the Dutch for centuries, and they have served as inspiration for artist and even in the forming of our nation. A lot of the events in their history took place right here in Gelderland, so it is a perfect subject for us to base an album on. With the album 'Bavati' we have not aimed primarily to make an accurate historic recount nor a work of pure fiction. We consider it a romantic interpretation based on historic facts, as we have tried to form a picture of what the Batavians could have felt like. Some of the songs are descriptive, and others are written from our interpretation of a Batavian's perspective. Even though this may not be the most scientific of approaches, we did our best to limit the fantasy factor as much as possible. If 'Batavi' were a movie, I guess it would say 'based on true events' at the beginning.
Alex: What is important when adding historical topics to an album. Are there maybe – besides the historical correctness – other things that have been especially difficult or tricky for you?
Joris: To us it's important to find out as much of the facts before we start writing. not just to be as historically correct as possible, but also to get a thorough understanding of the subjects and to get in the right mood to write music that captures the feeling behind it. Of course it's not an exact science, but still ...
Alex: From March to April you will be touring Europe, what are your expectations for these shows?
Joris: I'm very much looking forward to this, to me it's a fantastic line-up. we've had the honour of sharing the stage with Primordial and eluveitie before, both are great bands, fantastic performers and awesome people to hang out with. I've been a fan of both Solstafir and Negura Bunget for a long while now, and I admire their talent for creating atmospheres and their innovating styles.
Heidevolk in full line up (2012). Copyright (©) Bardur and Awik
Alex: Any specials planned for the fans?
Joris: This will be their first chance to hear the new material live! You can expect one hell of a show, we'll be giving it 100% every night!
Alex: When you are on tour, how do you experience the different audiences? Are there remarkable differences between locations or countries?
Joris: Yeah absolutely, some crowds are more outgoing than others. Especially the Italians are maniacs! Of course it also depends on which day of the week you play, weekend shows tend to be wilder in general.
Alex: Did you have any personal key moment in your life that led you to making music?
Joris: Seeing bands like Slayer, Morbid Angel and Pantera perform on stage as a kid was hugely inspirational, but it wasn't until I discovered Bathory and later pagan bands that I really developed the feeling that I had a story to tell too! I remember being completely overwhelmed by records like Hammerheart and Blood on Ice. My interest in folklore, mythology, history and nature was way older than my interest in metal, but I guess that was the moment when I decided I wanted to combine it all. I was lucky enough to run into some like-minded individuals here in Arnhem, so we started a band and Heidevolk was born.
Alex: What would you personally say has been your greatest success with the band so far if it comes to your personal opinion?
Joris: I'm really proud of the fact that we get to tour the continent singing in our own language, and doing what we like to do most. I'm extremely grateful that we have an audience that appreciates what we're doing and makes an effort to understand us. I'm proud of having them as fans.
Alex: Have there been any stylistic changes or developments in your music over the years?
Joris: I think the newer members have certainly made their mark on our sound over the years. Some things are still the same as when we started out, but overall I think the music has gotten slightly more technical and heavier, as well as a tad more complex structure wise. I still consider our music pretty easy to get into, but I feel the newer stuff may have more lasting appeal because we've matured as songwriters.
Alex: In your opinion, what aspects of music are the most valuable in your opinion? Do you intend to make music for others or rather for yourself?
Joris: I never cared much for production as much as for 'feeling' in music, that's what I consider most important. Being a singer and a lyricist, I mainly focus on vocals and texts. Things like intonation, timing and pronunciation can make a world of difference in songs. Music needs to touch me in one way or another, it should me feel angry, melancholic, proud or whatever. I consider listening to music that does not move me as the biggest waste of time there is.
Alex: Generally, what's up next for the band? Any specials planned?
Joris: We're getting ready for our CD release party in our hometown of Arnhem, that's always a big thing for us and it has become a tradition! Other than that we're celebrating our 10th anniversary this year, so we plan to do something with that later on this year. Also, a video for the track "Als de dood weer naar ons lacht" is coming up!
Alex: Do you have a closing word for your fans out there?
Joris: Thanks for reading all the way to the end! We can't wait to hit the road again, hope to see you in the crowd someday soon!
Alex: Thanks again for taking the time for this interview!
Joris: Anytime, man! Thanks for your interest in Heidevolk and good luck with Metal Trails!
Alex: Thank you, Joris!
Das Verfassen neuer Kommentare ist derzeit deaktiviert.