Interview: Obey the Brave
mit Alex Erian vom 28. April 2013 im LOGO, Hamburg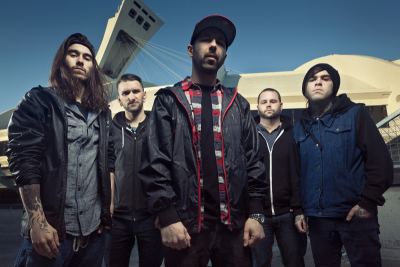 Obey the Brave präsentieren sich in voller Formation (2013). Photo Credit: Thierry Lord
Obey the Brave
sind eine 2011 gegründete Metalcore-Band aus Kanada. "Ja und ... ?", wird der eine oder andere schon in den Bann dieser Zeilen gezogene Leser mürrisch vor sich hinraunen. Im Grunde klingt das auch ziemlich unspektakulär, doch diese junge Band, die gerade im letzten Jahr ihr Debütalbum
Young Blood
veröffentlicht haben, touren schon kreuz und quer durch die Welt. Auch Europa liegt für die Truppe mehr als nur in greifbarer Nähe. Bereits mehrfach kannte man als Hamburger Metalfan den Jungs einem ihrer Konzerte übern Weg laufen. Da viele junge Bands es kaum schaffen überhaupt mal die Grenze ihres eigenen Landes zu verlassen, so ist das bei näherer Betrachtung schon eine ziemliche Leistung. Direkt dazu kommt noch die Tatsache, dass die Band aus einem Land stammt, in dem sich die ganze Metalcoreszene aktuell einer enormen Transformation unterzieht. Viele der ehemaligen Genregrößen lösen sich auf, oder haben mit ihrer Musik an Dampf verloren. Und welche Rolle nehmen
Obey the Brave
dabei ein? Seht einfach selbst, was uns Sänger
Alex Erian
kurz vor der Show in Hamburg dazu erzählte! Außerdem gibt uns Alex schon mal einen ersten Ausblick darauf, wann die Fans mit neuem Songmaterial der immer tourenden Band rechnen können und wie er persönlich mit kritischen Meinungen von Fans und Presse gegenüber seinem künstlerischen Schaffen umgeht. Viel Spaß beim Lesen!
The Interview:
Maria Camrath: How's the tour going so far?
Alex Erian: So far so good. I mean, we've been on the road for a month. This is our 28th show in a row, tomorrow's our first and only day off. I'm looking forward to tonights show, should be fun. But also to tomorrow. Finally some time off. Rest, not scream for a day. Tour's great, turned out so great, just played Groezrock in Belgium yesterday. Saw Trapped Under Ice's last show in Europe, saw Comeback Kid, saw Hatebreed, saw Rise Against which are good bands. The Impericon Festival in Leipzig which was amazing. That was a lot of fun. I mean it's a great tour to be on. You know this tour this tour's actually going pretty well, so I'm excited.
Maria: That's cool. What are your expectations for tonights show?
Alex: Oh, I mean the stage is small, not too high, no barricade. So, as far as Obey The Brave is concerned, as many stage dives as possible.
Maria: Are you gonna stage dive?
Alex: No ...
(laughs)
Maria: The band's been formed in 2011, so you're still very young. How does it feel for you to have so much success already?
Alex: It's definitely overwhelming, but we are really working hard at it, we work hard every day. I mean you definitely have to treat it as a job in order to get somewhere but you know, that being said it's a great job. It's fun you know, playing music, travel the world. We did start talking here and there in 2011, I'd say November 2011. That's when we started jamming and about a month or two later we were like 'hey we got something here, let's try this out, let's do it full force', so we announced the band in January 2012 and things have been just going so fast. We've toured over 20 countries in the past, like six, seven, eight months you know.
Maria: So you've basically been everywhere already.
Alex: Everywhere? No. There's still places to discover. But we have done our share touring already and we're just very thankful for everyone's support.
Maria: And where would you love to go play the most right now?
Alex: I mean I've been in a band called Despised Icon and we've toured the world for 10 years, so we've been pretty much everywhere that I wanted. On a personal level I would love to go to Egypt, because that's where half of my family's from. So you know, see my motherland, discover more about my roots. Cause you know, being brought up in Canada, just a regular Canadian. So I'd love to travel to Egypt, whether it's on a tour or not on a tour.
Maria: You've been in Hamburg already, about half a year ago with the past tour. How is it to be back so soon?
Alex: It's cool, it's been about five months. I love playing the Markthalle. I've played there a bunch and I have a lot of good memories there. I don't know, man. I like Hamburg. It's a nice place, it's sunny out today, we've walked around, saw a bunch of cool stuff. I love Germany in general. If I had to move to a foreign country I would move to Germany. But to answer your previous question, we're going to Japan, Australia in August. That's not announced yet. But I'm very much looking forward to that, cause I've only been there once. You know, as I said, working hard and travel the world.
Maria: Speaking of albums, your debut album "Young Blood" came out in 2012. How different is it for you to perform them on stage compared to recording them in the studio?
Alex: What I like about our band is, there's no fireworks or nothing you know. What you hear on the CD's is what you get live. We're not playing to a click track, no sequences and samples like pre-recorded vocals and pre-recorded guitars and all that. Not that there's anything wrong with that, it's just not us. We would rather be a little sloppy or more human. That being said, to each his own. But as far as Obey The Brave is concerned that's what works for us. But I think what you see in our music videos or what you hear on our CD's translates very well live. You know, very raw, in your face approach to music.
Maria: When can we expect new stuff from you?
Alex: We've been on the road nonstop and you know, I've been at home just for a few weeks from time to time. By the end of last year, we did like four tours in four months. So that's very consistent and leaves very little time to write any new songs. With that being set, we are writing a little here and there. What we have so far ... we're extremely confident about it, extremely happy and proud about it. So we're looking forward to showing that to everyone. And as far as this summer is concerned, we're mostly just taking some time off and doing summer festivals in Canada. Also we'll have this good tour in two months and a half off to, finally to enjoy home, hang out with our friends, our girlfriends, our family and to write music. So we're looking forward to writing more this summer and hopefully at least record a couple of songs if not a record. We'll see how it goes. We don't want to rush into things. We want to make sure, we're happy and 100% satisfied with everything we put out and everything we come out with? So expect some new music in the fall or early next year at the latest.
Maria: How different is it playing such a festival tour compared to playing a real festival?
Alex: Oh god, I don't know! Right now I realized, that I played my first show twenty years ago. I have experienced everything from like really big festival type tours to playing small and really annoying venues, improvised tours ... you know? And some times I like the smaller shows, but once in a while you play a festival like the Groezrock, where we played yesterday. And I like big festivals as well. I love both for different reasons. I'm looking forward to tonights show, because it's a smaller venue. I think the capacity is like 500 kids. So everybody will be like close into my face and I'll be able to scream with them, climb on them, jump on the. They'll be able to jump on stage, hang out with us. I love that interaction. That to me is part of the show. You know, not just a band performing, but the audience reacting and being part of the whole experience. That's what we really enjoy about the smaller tours or the smaller clubs. But then again, you play a ... you know, I did the Wacken Open Air back in the day with my old band and I did Summer Breeze and all those festivals. That's a fucking big deal, playing in front of 5.000 - 50.000 people. That's an insane experience! You go on stage and in the first seconds you're like: "Oh god, holy shit!" I don't know, I just love playing music ...
Maria: Being from Canada, how bis is the Metalcore scene in Canada actually?
Alex: I feel like right now it's going through like a transition face. I feel like a lot of the older bands have sort of calm down or broke up. And now the younger bands are just surfacing left and right while just trying to make their mark. All the best of them, seem unfortunately to be like as not as strong as it used to be. But as I've said: We're in between a lot of changes right now. So best of luck to all the upon coming bands from back home. I hope to see them or tour, representing where we're from - sooner than later, definitely.
Maria: Bands always gets critics from basically everywhere, like Twitter or Facebook. And every social media network screams back at you, when they don't like stuff. How do you handle that?
Alex: I use to be more sensitive to other peoples comments and all that. Obviously, when you put so much time and effort into something, and your so passionate with what you're creating or of what you're part of and someone rapidly dismiss that with saying: "Your fucking shit and You guys suck, I hope you vanflip or whatever." I used to read critics in the past, but now I truly just don't care and I don't even read the comments anymore. I've got better things to do and to be honest sometimes it's even funny. Whether they say good things or bad things, at least they are talking about us and I'm sure not talking about them, because I don't know, who the fuck they are. Whether people say good things or bad things, it's all about that. Freedom of expression, you know? You are who you are, you like what you like. I don't like everything and don't expect everyone to like what I do. That's completely normal. My only real enemy is indifference. Go ahead and say what ever you like, but say something!
(laughs)
Maria: Have you ever been confronted with criticism, that you liked to well, that you immediately thought about putting it in to practice?
Alex: Yeah! I mean there is such a thing as constructive criticism. I'm very picky, I am .... I am kinda crazy, you know?
(laughs)
I'm a perfectionist and if someone criticizes what I do or what we do, but in a respectful and enlightening way, then I'm all yours. And I'm still young and I still have a lot to learn. That's life and it's cool. If you think you're hot shit and you're perfect ... well, you know what? You're not!
(laughs)
Maria: What can we expect for the future of the band?
Alex: Simple! More songs, more records, more shows, more tours, more traveling, more hang outs, more fun ... simple as that!
Maria: Now that we're at the end of our little interview, do you want to say anything to the fans?
Alex: Just a big thank you to everybody and anyone, who's keeping an open mind and check this out and who are actually supportive. We wouldn't be here without you guys. Much respect, danke schön and see you soon on the road!
Moderation: Maria Camrath
Wer in das aktuelle Album "Young Blood" von 2012
reinhören möchte, kann dies hier tun: [amazon "Obey the Brave – Young Blood (2012)"]B008WRLCFA[/amazon]
Das Verfassen neuer Kommentare ist derzeit deaktiviert.