Interview: New Keepers Of The Water Towers
mit Rasmus Booberg vom 8. Januar 2013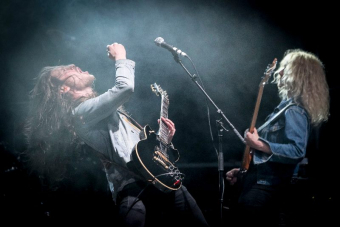 Rasmus Booberg (l.) mit den New Keepers Of The Water Towers live on Stage.
Die schwedischen Progressiv-Stoner von
"New Keepers Of The Water Towers"
- was für ein abgefahrener Bandname - haben mit ihrem aktuellen Longplayer
The Cosmic Child
ein Monument geschaffen, dass noch lange seinesgleichen suchen wird. Stoner-Doom-Einflüsse treffen auf die alten Progressiv-Haudegen wie
Pink Floyd
,
Genesis
oder auch
King Crimson
. Es ist nicht nur ein Album, es ist eine Odyssey, die seinen Hörer von der ersten bis zur letzten Minute fesselt. Dieses wahrlich meisterhafte Stück Musik hinterlässt aber durchaus die ein oder andere Frage und so haben wir uns mit
Rasmus Booberg
, dem äußerst sympathischen "Kapitän" und gleichzeitig Songwriter, Gitarrist und Sänger der
New Keepers Of The Water Towers
, zum Interview verabredet. Was es von der schwedischen Musiklandschaft zu berichten gibt, wieso sie eineinhalb Jahre für die Produktion des aktuellen Albums benötigt haben, warum man mit Vinyl-Platten nicht nur einfach Musik hört oder was sich hinter dem coolen Bandnamen verbirgt, erfahrt ihr im folgenden Interview. Viel Spaß beim Lesen!
The Interview:
Michael: Hi Rasmus! First of all: Happy New Year!
Rasmus Booberg: Thank you! Happy new year to you, too.
Michael: Can you introduce yourself to our readers and describe your role in the band?
Rasmus: Yes, my name is Rasmus Booberg and I'm one of the founding members of the band. We started this project like six years ago or so. I'm the songwriter in the band. I always have the visions and ideas for new stuff and so it becomes natural. And I also play guitar and sing. So I become the Captain of the band.
Michael: Someone has to do this job!
Rasmus: Yeah thats pretty much how my experience has been. I' ve tried to play in different bands where we have this democracy going on, but the one(s) with the vision - me for example - have to wait for the other members. I'm a kind of a hectical person, so it decided to stand over anyone else…
Michael: Hows the weather in Sweden? I'm from Austria and right now we have spring temperatures.
Rasmus: Oh, it's just awful here, a lot of wet snow! We have one meter snow, or so!
Michael: New Keepers Of The Water Towers - a fuckin' interesting band-Name! What's the story behind this spacey name?
Rasmus: Alright, it's a long time ago, but I guess it was… Do you know our first recordings? We get the chance to release our demo-recordings, were we did what we wanted to do. It was like a conceptional album and consists of our two first demo recordings, six and eight tracks or something the like. And we had this concept circling around an island, were basically on this island with the four water towers, the spring of all life in the great forests of that island. And there's this evil scientists who're representing the modern world, which want to change the forest and possess the water towers for their own, basically a lot of freaky shit. Teenagers being drunk on Swedish beer and so we decided that we are the 'New Keepers of the Water Towers'. The Guitars are pretty much like a water tower. Yeah that's deep!
Michael: That brings me to my next question: The album has that psychedelic name "The cosmic Child". When I combine the Cover and the title it brings me to Timothy Leary's "Ego-Death". Timothy Leary has this theory, when you take psychedelic drugs like LSD, you reach a point where you loose your ego. Did you mean something that way?
Rasmus: Aah, okay. Yeah, the CD is about that. Especially one Song, it's called "Pyre for the red Sage". This is much about Ego-Death! But it's more like an experience when you have had some spacey mushrooms. The album is about cosmic raping or cosmic realization. But it's not a LSD-Trip.
Michael: You started out as a Duo, but now you are a quartet. Was it because it's less work or something like that?
Rasmus: Yes, we started out as a duo for the first two demos but then I meant the instrumentalisation is a little low and so we need musicians for the live shows, especially when we want to play solos. So we recruited a member and the guitar player becomes our third member! And finally we added a bass player. The inner core of NKOTWT is always a duo, but so we can jam and feel like a whole band! But it's always harder to write music when you're among a lot of people. So that's the reason we had such a good flow in the beginning, when we started out as duo. But now we can jam a song and record it within one day.
Michael: The Sound on "The Cosmic Child" is a bit more clearer. Compared to your other releases, you can hear more details. Did you try out some other recording methods?
Rasmus: Yes, but the main reason you can hear a lot of details is, that there a lot of details on this album. We did three records before, and we did them in such a short period of time. Sometimes it happens, that we wrote and a recorded a song on the same day. This time the recording stretches over one and a half years. We recorded only the drums such a long time, and started almost two years ago from now on April 2011. So we worked on this album in a different way, the songs weren't really ready when we started recording. It was more like a process: writing, recording, mixing. And I'm also producing this album plus the other ones, and so I have a lot of practice now. The first CD was also my first recordings as a producer. At least I have three albums of practice. A lot of natural things have made this album much more juicy and rich. But one and a half year is a long time and I'm glad we were done.
Michael: A question about the producing part: When you produce it yourself, isn't it difficult to say "Okay thats it, now we're done." Do you actually lose at some point the objectivity?
Rasmus: You can't really say I'm producing it, I'm doing it, and I don't know if it's called "producing", when I'm sitting at home, just working on it. That's also the reason it took so long.
Michael: "Visions of Death" is my absolute favorite track on this album. Can you tell us something about this monument of a song?
Rasmus: First of all, it's the final song we wrote for the album. In a way it's the first song, and in a way its the final song, cause it consists of two parts - not at all perfect to fit together, cause the parts are to different, but in the end it was like it should be. Maybe you noticed while listening to it. The second half is the only song I haven't written. I wasn't even there when the Drummer and the other guitarist wrote it. But then I get my hands on and started working on it. And a year after we recorded the drums, I deleted all the guitars and started to try it again. It's also one of my favorite songs as well but its really different, from what it was in the beginning. I like that in music, when you get a natural flow. But there are actually only two parts of the song that were repeated during the whole ten Minutes. If you write a song that goes natural that way, that's really interesting music. Of course i figured out, especially when the guitar comes in, this is one epic song, not two songs. We were freaking out thinking, how can we make this song more obscurer. For example we use a guitar with the capo on the third fret to make it sound bright a bit weired. Or there's a Glockenspiel with an echo in the end. We tried to feel out and see what we can make. I don't think I wrote it, it's more like it appeared from nowhere. It's such a weird song.
Michael: In the Song "Pyre for the Red Sage", I found a wide range of influences! For example: Monster Magnet, Spiritual Beggars, Porcupine Tree, Pink Floyd…there's so much inside, it's like a balloon. What are your main influences?
Rasmus: Yeah!
[laughs]
It's pretty much the entire album. Pink Floyd is very accurate, the whole psychedelic thing, Pink Floyd did that, so i think "Dark Side of the Moon" was a very big influence. The idea is, a tribute to "Dark Side if the Moon" in a whole album. That was my idea to make this album, but there are a lot influences, directions and sounds. I'm not a big fan of Monster Magnet or Porcupine Tree, but Spiritual Beggars are the reason we started this band. But I listened to them for a very long time. I had this Spiritual Beggars-phase when I was 17, 18 years old. The song "Young Man, old Soul" made me think:
"What is this music? this is devils Music!"
It's heavy and a song about it sounds like this. We are still away from that sound, but in the influence it's still present. I never saw them live but want, when they release "Demons" or "On Fire". Now they have this new singer and I don't know whats going on.
Michael: What would you personally say are your favorite bands?
Rasmus: I don't listen that much to that heavy kind of music. After we became part of the stoner rock scene, I became really sick of that kind of music. And I'm never be a big fan in that kind of music. But it's such a powerful way to express music. The bands I'm listening to are more 70's Prog-Rock-Bands like Genesis, Camel, Omega, King Crimson and I also love a Swedish band called "Gösta Berlings Saga". I think everyone should listen to them. We hopefully have our CD-Release Gig with them in a couple of months! We try to collect influences from all of them, but make them not so apparent. We try to land between High on Fire and Mastodon, the modern bands I really like and mix that with the old stuff. That was pretty much the vision of the album. Just try to collect all the best things from all the best bands.
Michael: What do you think about vinyl? I saw that your albums are available on it ...
Rasmus: Oh, i love it! But there are a many reasons to buy records: First of all I love the album-art, it's always an huge effort. Like the cover of "The Cosmic Child". Our vision comes alive with this Covert-art. But you haven't seen the complete art, if you fold out the cover, also on vinyl, you can see the art in it's whole glory. And also the feeling listening to it. It's more like a dedication. You can't just klick the button to hear it. You need time to unpacking, open it. And after all that you have a focus to listen to the album. And also the sound is more better, but the most people haven't good sound systems. I like my big sound systems and I'm in need of that!
[laughs]
All this things come together, and in the end, it's a powerful experience and so a bigger reason to own them.
Michael: And to listen to them, in the first place!
Rasmus: Yes, of course. CD's…I don't know… I'm still downloading our Music, cause it's easier then listening to CD's.
[laughs]
Michael: Are there any remarkable, special or funny moments with the band you'll remind for a long time? Maybe on stage or beside the stage?
Rasmus: We had some really nice and awesome Shows. It's been difficult going outside, doing shows, since we've been signed by an American record label. We didn't have that much promoting in Europe, to get the remarkable shows we want. But we had some highlight: Last summer we played a weird gig in Slovenia. Pretty handsome. We came to this country where we have never been before like with the paddle on my back and the guitar in my hands, came to the stage and play. I think there were thousand people there. A pretty big crowd and it felt a bit strange, maybe the strangest concert we have ever played. Just emotional.
Michael: How do you think the music has changed over the last 40 years? What are the most important stations in the development of rock music?
Rasmus: The 80ies happened!
[laughs]
And the 90ies of course. I'm pretty young, and I wasn't there so I can't tell exactly. But I'm not a big fan of 80ies and 90ies Music. I think you have to listen to the 60ies and 70ies and then jump to the modern music and see whats going on now. Okay, i love Iron Maiden and Heavy Metal from the 80ies and some Music from the 90ies. I don't listen to 80ies and 90ies Music, I thinks it's awful. Too much synthie and reverb. I think people stop taking LSD or smoking weed and started doing cocaine and dance music. That's my theory.
Michael: Is there a movie you want to bring in a song or maybe compose the whole score for a movie?
Rasmus: There's one movie thats really up to our music, it's called "Princess Mononoke" and its from the Japanese director Hayao Miyazaki. But it would be awesome to do a soundtrack sometimes, yes.
Michael: Any plans for the near feature, maybe a bigger tour or playing festivals?
Rasmus: Hopefully. We start to book shows and get the CD out and make sure everything is set for the CD to come out. Now it's been a bit hectical time, I had only three Weeks for the mixing, then I burned out after that, and we still have a lot of things to do. We just have to see. Right now we don't have a booking agency, so that's the first thing we have to do and have to see, they take care of us. But yes, of course, we are planning to do a massive touring.
Michael: I definitely want to see you live on stage. That's fact!
Rasmus: Yes, we want to come down to Central Europe. Hopefully this year or maybe next. I promise!
Michael: What do you expect from your fans? Patience?
Rasmus: I hope people haven't forget about us. But I think they know, that we aren't doing nothing. I like our fans, we don't have many but it seems to me I can count on them. I think they stick in there and listen to our music.
Michael: Okay, that's it. Thank you for your time! Do you have any final greetings to the people out there?
Rasmus: Yes! Keep it cosmic! Thats how we always say! And enjoy our album, it's pretty different, but I think the people will like it. And to read the lyrics I recommend! You will find out, the music is pretty much different from the beginning. Thank you very much too!
Das Verfassen neuer Kommentare ist derzeit deaktiviert.