Interview: Communic
mit Erik Mortensen vom 12. September 2011 via E-Mail
Am 22. Juli veröffentlichten die norwegischen Progressive Power Crossover Metal'er von
Communic
ihr viertes Studioalbum
The Bottom Deep
! Grund genug für uns, uns mit Bassist Erik über das Album, die Reaktionen der Fans darauf, die Situation in Norwegen und natürlich die jüngsten Pläne der Band sowie die Besonderheiten ihrer Musik zu unterhalten. Viel Spaß beim Lesen!
Das Interview:
Arne: Hi Erik! Thanks for taking the time for this brief interview!
Erik: Hi. Thanks for being interested in Communic and wanting to talk to us.
Arne: How's the band doing right now? What's up in Norway?
Erik: The band is doing great at the time. We are filled with new spirit after having been through a quite slow period, and we are looking forward to getting out there and doing some nice gigs, hopefully meeting a lot of old and new friends too. Here in Norway things haven't been too much to cheer about lately. We are just at the end of a rainy and sad summer, with the terror attacks and all that shit. But life must go on.
Arne: On July 22 you released your 4th studio album "The Bottom Deep". What can you tell us about it? How did the fans react to it?
Erik: Well, the first thing most people will notice is that there is an overall darker atmosphere in all aspects of the album. The cover, the lyrics and the music are all a bit darker than on our previous albums. Also, the songs are a little bit shorter than before and maybe a little less prog. But it seems like the fans love it, and that is a really good feeling for us.
Arne: How did the title come to be? What does it mean for you?
Erik: This album is a bit more personal than the others, and Oddleif should be the one answering this question since the lyrics are mostly about a personal tragedy that happened to him. The title "The Bottom Deep", as far as I understand, is about his state of mind when it was on the worst for him.
Arne: Your 3d album "Payment of Existence" received very good reviews among fans and magazines. Did you feel like being put under pressure with your new works? Do you think you fulfilled your fans expectations with "The Bottom Deep"?
Erik: Well, actually, "Conspiracy in Mind and "Waves of Visual Decay" got even better reviews than "Payment of Existence", so we have lived with that pressure since day one. But we have never felt much pressure when making new albums. We are trying to be realistic about what we do, and we know that it is very difficult to deliver up to expectations every time. So, if we do, it is just a big bonus for us.
Arne: When you are on tour, how do you experience the different audiences? Are there remarkable differences between locations or countries?
Erik: As everybody knows, Germany is probably Metal Nation number 1. So when we are there, we are always having a good time. And we don't feel like there were big differences around Europe either. Except maybe Norway where we are having a hard time to get much people to our gigs. But there is an old saying that goes: "You won't be a prophet in your home town or country".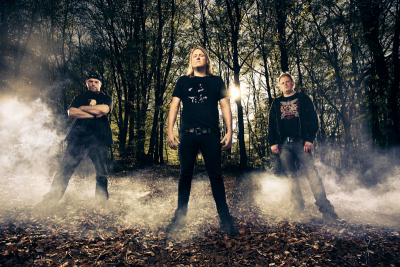 Communic in full line up 2011.
Arne: How is it for you to come around that much? Still doing sight-seeing?
Erik: It's a big bonus. It's what it is all about. To get out there and play our music for the fans. And if we have the time to go sightseeing, we do. It's nice to get around and see historic sights and stuff, trying local food and meeting new people.
Arne: You have released 4 albums in total now, but after 8 years there's still no live recording so far. Are there any plans to change that in the future?
Erik: There is no live recordings planned, so we have to see what the future brings. But it would be fun to do that sometime.
Arne: Have you ever encountered an audience that blew your mind in a positive way or – on the other side – didn't go along at all like you had hoped or expected? How do you treat such a situation?
Erik: We have had a lot of good audiences, but for me personally, Wacken 2007 was probably our best gig ever when it comes to the audience. They where crazy, and of course that made us better on stage. We have of course had our share of bad gigs too, but then it's mainly our own fault, and not the audience. But when you are in that situasion, you just have to make the best out of it.
Arne: You're mainly being listed as a Progressive power metal band. Would you agree on that?
Erik: Not entirely. We have some progressive moments in our music, but it's so much more. I know that many people have a need to put a label on us, but that is not easy. We have elements of Doom, Thrash, Power and straight Heavy Metal, too, so I can see that it's difficult to categorize us.
Arne: How do you manage to do justice to such a complex genre with "only" 3 band members? Is it sometimes hard for you to compose or play live on stage? Do you have to use sound effects in playback here and there?
Erik: We have always been a three piece band, or a power trio if you want, so it is natural to us. When we are playing live, we play the songs as they where made at the rehearsal room, and in studio we add some extra rhythm guitars, some choruses and maybe a little keyboard or sound effects. On this album we have cut back a little bit on the layers, and tried to capture more of the "live Communic sound".
Arne: Did you ever think about maybe adding a second guitarist or maybe something like a keyboarder to your constant line-up someday, like it is common at most of this genre's other band?
Erik: We have tried both a second guitarist (two times) and keyboard, but it interfered with the dynamics of the music, so we have decided to go on as a three piece for now.
Arne: Generally, what's up next for the bands? What can the fans expect from Communic for the future?
Erik: Well, we should have been on a tour in Europe now. But since it was cancelled we have to come up with something else. But we will be playing around Europe for sure, either on festivals or on tour. We just have to wait and see what the future brings.
Arne: Anything left you would like to tell your fans?
Erik: Hope we will meet and party with as many of you as possible in the future! For those who want to follow us, we have a
new official facebook site
up, where we put out all the latest news, chat and hang around – come join us. STAY METAL. Erik.
Arne: Thanks for the interview!
Das Verfassen neuer Kommentare ist derzeit deaktiviert.